The hearts are bonuses you can distribute daily in your zoo as you wish.

You get your first heart at level 1 then, at every 5 levels, until you reach a maximum of 9 hearts.

You get a bonus heart if you are a Premium player.

You can receive additional hearts due to Magical Totems of Happiness, gifts...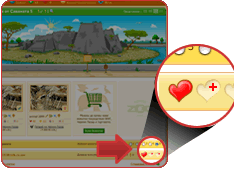 The hearts can be used for each building, each enclosure, each group of employees.
In each case you will find a description of the effect produced by using hearts.

According to use, the hearts are either valid during the entire day on which they are used or, they bring a bonus for the following day.
They are renewed on the next day.
According to your needs or your strategy, use your hearts there where you want to get a bonus in your zoo.

Use your hearts in an enclosure to increase the chances of having newborn,
use them on the parking lots to increase your visits on the following day,
or also in a shop to buy supplies at reduced prices,
etc.

In each zone of your zoo place the cursor of your mouse over the place where the hearts are put and you will see which bonus you get by using your hearts.